Wine tasting can be broken down into four basic aspects: color, swirl, bouquet (or aroma), taste and aftertaste.
Color/ Appearence
Color and appearence is the first thing you notice about a wine. Color tells you much about the wine. For example, white wines tend to deepen in color from yellow to golden as they age. Red wines on the other hand, tend to change from red to brick with age. The best way to judge a wine's color is by looking at it against a white background - a white tablecloth or napkin will do fine. There is a range of colors for both red and white wine
Swirl

First hold the wine glass by the stem to avoid getting fingerprints on the bowl which would otherwise obscure your ability to see the clarity of the wine. It also prevents white wine from being warmed up too quickly. Swirling aerates the wine and releases more aromas or bouquet. Swirl the wine in your glass but don't get too carried away and splash the person next to you!
Bouquet or Aroma

Did you know that about 75% of what you'll want to know about a wine could be found in your nose? You can only perceive four tastes-sweet, sour, bitter, and salt-but you can smell over 1,000 different scents. Pinpointing the nose of the wine helps you to identify certain characteristics found in the taste.
Smell the wine now that you have released the bouquet. What type of nose does it have - in other words, what does it smell like? There must be thousands of adjectives to describe the bouquet of a wine. Here are just a few to whet your appetite: Burnt, Fresh, Tannic, Big-full-heavy, Mouldy, Vanilla, Corky, Nutty, Yeasty, Earthy, Sulphur, Young, Flat, Tannic. Hints: Aging the wine in oak may add bouquets of vanilla, cinnamon, cloves and almonds.
Extended bottle aging may lend a toasty quality. You may smell old leather or roses. Other grapes have their own trademark aromas: Zinfandel often evokes berries. You may smell violets and spice when you encounter Pinot Noir, the primary grape of Burgundy. Among whites, Chardonnay sometimes smells like ripe apples and maybe coconut, figs and other tropical fruits, particularly if it's aged in oak. Riesling, the popular German grade, may also smell of apples and sometimes citrus fruits. Sauvignon Blanc often has a grassy smell and sometimes grapefruit.
Your sense of smell will recognize some of the defects of wine, such as vinegar (too much acetic acid in the wine); cork (wine absorbs taste of a defective cork); or sulphur (too much sulphur dioxide in the wine). Although used in wine making to kill bacteria and aid in preservation, a good wine should never smell like sulphur dioxide. Some grapes and winemaking styles may result in "barnyard' aromas which are not faults.
Taste and Aftertaste/Linger

Tasting does not simply mean taking a sip of wine and swallowing it immediately. Humans don't use smell and taste as often as they use the other senses such as touch and sight. So it stands to reason that it is more difficult to describe what we taste in a wine. Used the right way, your mouth can tell you a lot more about wine than you imagine. Your tongue has five taste senses - sweetness, acidity, saltiness, touch and bitterness. You can find them all by letting the wine sit in your mouth for a few seconds before swallowing.
Try inhaling some air too before swallowing. It helps release the wine's flavour in your mouth. You don't actually have to swallow the wine in order to taste it. Professional wine tasters simply swirl the wine in their mouths and then spit it out. They are able to get all the flavour necessary using this method. Whether you spit or swallow the wine, sit back and think about it for a little while. Did you like the wine? Was it acidic? If it was a red wine, were there tannins in the wine? Were they too strong? How long did the aftertaste last? Was it a pleasant aftertaste? Wine tasting is all about your enjoyment regardless of what others think of the wine.
How to read a Wine Label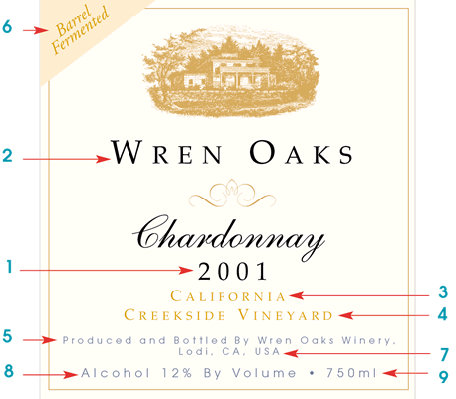 1. This is the year the grapes were harvested. If the vintage date appears on the label, at least 95% of the wine must be from that vintage. Above the vintage year is the grape variety. If the variety is on the label, the wine must contain at least 75% of the named grape, though many wineries use 100%.
2. Name of the Winery or brand name.
3. Wine Region - This tells you where the grapes came from. If the specific wine region or "American Viticultural Area" like Napa is on the label, at least 85% of the grapes must come from that region. If the wine is labeled by county, such as Mendocino County, a minimum of 75% of the grapes must come from that county. Even if the wine region on the label is simply "California," as in many well-priced wines, you can be assured that 100% of the grapes are from California.
4. Vineyard - Sometimes you'll see the name of a specific vineyard on the label, which indicates that a minimum of 95% of the grapes came from one particular vineyard.
5. "Produced and Bottled By" indicates that the wine producer also is the bottler of the wine, and "Estate Bottled," means the wine was also made from grapes grown on the producer's property.
6. Winemaking Information - Optional terms like "barrel fermented," "sur lie," and "oak aged" provide more clues about the style and flavor of the bottle. All of these terms point to a toasty, oaky, and more complex wine. Special tip: Some winemakers include their tasting notes and food recommendations on the back label.
7. Location of Bottler - The location of the producer or bottler will also appear on this line
8. Alcohol by Volume - In a table wine, the alcohol level ranges from 8.5-14%, give or take a small percentage.
9. Bottle Size - The volume of the bottle contents. 750 ml is a standard size bottle and is the equivalent of 25.4 ounces, or about five glasses or wine.
How to read a French Wine Label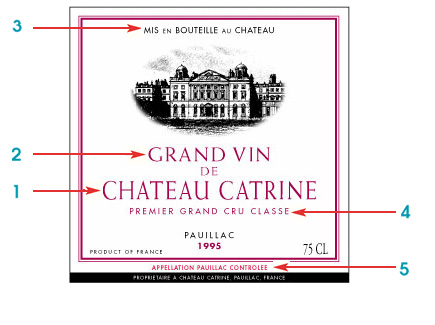 1. Chateau Catrine - Name of the Producer
2. Grand Vin - Indicates this is the main wine bottled at the chateau
3. Mis En Bouteille Au Chateau - Indicates the wine was bottled at the Chateau
4. Premier Grand Cru Classe - Indicates the status of the wine according to the classification in this case the highest classification. Premier Grand Cru Classe" tells us this chateau was one of the five original "First Growth" chateau from the Classification of 1855.
5. Appelation Pauillac Controlee - Indicates the wine is produced under the AOC (Appellation d'origine Contrôlée) regulations fo rthe region, in this case Paullac. AOC is just one category of quality for French wine. The VDQS (Vin Délimité de Qualité Supérieure) is a designation just below AOC, and is usually a temporary designation for smaller, experimental wine regions that are eventually granted full AOC status.
How to read an Italian Wine Label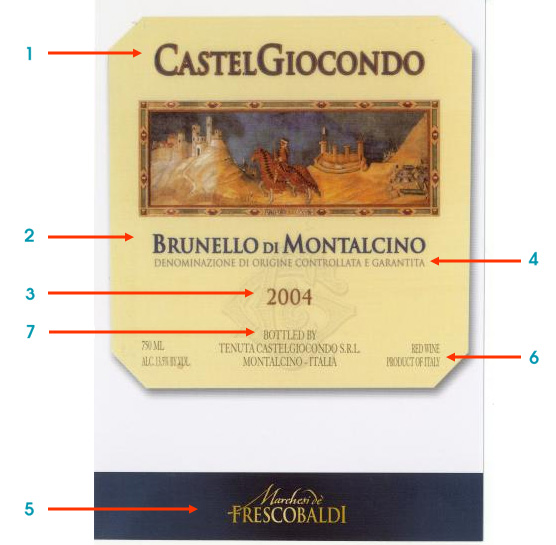 1. Castel Giocondo- Estate name
2. Brunello Di Montalcino - Wine type or region
3. 2004 - Vintage year
4. Denominazione di Origine Controllata e Garantita (DOCG), the most stringent Italian classification. Similar to the DOC but more stringent. Allowable yields are generally lower, and DOCG wines must pass an evaluation of a tasting committee before they can be bottled. Other classifications include Vino Da Tavola, Vino a Indicazione Geografica (IGT) and Vino a Denominazione di Origine Controllata (DOC).
5. Frescobaldi - The wine producer
6. Product of Italy - The country of origin
7. Bottler information
How to read a German Wine Label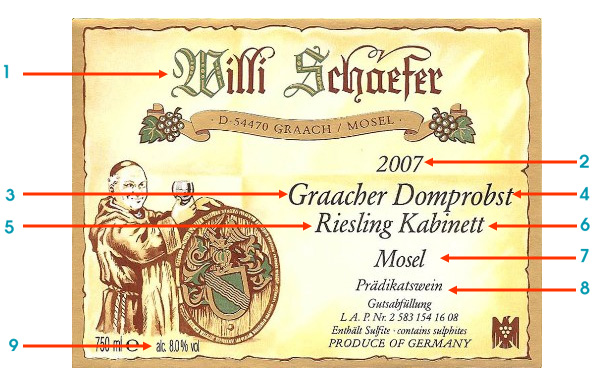 1. Willi Schaefer - Producer
2. 2007 - Vintage year
3. Graacher - Village
4. Domprobst - Vinyard
5. Riesling - Grape Varietal
6. Kabinett - The Prädikatswein (formerly QmP) Kabinett - fully ripened light wines from the main harvest, typically semi-sweet with crisp acidity, but can be dry if designated so.
Spätlese - meaning "late harvest" typically semi-sweet, often (but not always) sweeter and fruitier than Kabinett. Spätlese can be a relatively full-bodied dry wine if designated so. While Spätlese means late harvest the wine is not as sweet as a dessert wine.
Auslese - meaning "select harvest" made from selected very ripe bunches or grapes, typically semi-sweet or sweet, sometimes with some noble rot character. Sometimes Auslese is also made into a powerful dry wine, but the designation Auslese trocken has been discouraged after the introduction of Grosses Gewächs. Auslese is the Prädikat which covers the widest range of wine styles, and can be a dessert wine.
Beerenauslese - meaning "select berry harvest" made from individually selected overripe grapes often affected by noble rot, making rich sweet dessert wine.
Eiswein (ice wine) - made from grapes that have been naturally frozen on the vine, making a very concentrated wine. Must reach at least the same level of sugar content in the must as a Beerenauslese. The most classic Eiswein style is to use only grapes that are not affected by noble rot. Until the 1980s, the Eiswein designation was used in conjunction with another Prädikat (which indicated the ripeness level of the grapes before they had frozen), but is now considered a Prädikat of its own.
Trockenbeerenauslese - meaning "select dry berry harvest" or "dry berry selection" made from selected overripe shrivelled grapes often affected by noble rot making extremely rich sweet wines.
7 . Mosel - Wine Region
8 . Prädikatswein - Quality designation. Deutscher Tafelwein, or 'German table wine' equivalent to vin de table
Deutscher Landwein, or 'German country wine' equivalent to vin de pays introduced in 1982 must come from one of the 19 Landwein regions.
Qualitätswein bestimmter Anbaugebiete (QbA), or quality wine ust be produced exclusively from allowed varieties in one of the 13 wine-growing regions. Qualitätswein plus the name of the region, rather than the full term Qualitätswein bestimmter Anbaugebiete is found on the label.
Prädikatswein, recently (August 1, 2007) renamed from Qualitätswein mit Prädikat (QmP). The top level of the classification system. Prädikatswein range from dry to intensely sweet.
9 . Alcohol - in this case 8%
Wine Vintage Charts
Here are a few reference vintage charts from various sources. Each is in a PDF form. The Spector card is formatted to be used as a pocket guide.
Wine Spectator 2010 Vintage Chart
Wine Spectator 2012 Vintage Chart
Robert Parkers' The Wine Advocate Vintacge Chart 2009
Robert Parkers' The Wine Advocate Vintacge Chart 2012
Wine Enthusiast 2010 Vintage Chart
Wine Enthusiast 2012 Vintage Chart
What's in Oak that affects Wine?
Lactones
Lactones are the most important oak derived flavors in wine and are known as oak lactones. On their own the oak lactones smell like coconuts, but in wine they smell oaky too. The two main types are known as 'cis' and 'trans' isomers of B-mthyl-y-octalactone. The seasoning affects the ratio of cis to trans oak lactones and toasting reduces the overall lactone levels. Trans has a coconut aroma, while cis has coconut and earthy herbaceous characteristics. American oak is much higher in lactone concentrations.
Vanillin
The component behind vanilla is present in significant quantities in oak. If the oak is actually fermented in contact with oak, the yeast used in fermentation reduces the vanillin concentration. Thus barrel-fermented wines smell less vanilla and oaky even though they are often in oak for longer.. Levels of vanillin increase with mild toasting but can decrease with heavy toasting.
Guaiacol
Guaiacol has a smoky aroma and is also described as spicy. It is formed by the degradation of the wood component lignin during toasting and therefore increases at high toasting levels.
Eugenol
Eugenol is a clove-like smell. It increases with seasoning and toasting.
Furfural-5-methylfurful
Furfural-5-methylfurful is produced by the heat induced degradation of sugars and carbohydrates during toasting. They have a sweet butterscotch and caramel aromas with a hint of almond.
Ellagitannins
Tannins absorbed by the wine from the wood are known as ellagitannins. They modify the structure of the wine and increase the color of the wine. They have an astringent taste. The concentration decreases at heavy toasting levels.
Many of these compounds occur at levels below their individual detection thresholds in wine. However they can have a synergistic effect on the flavor and aroma of wine. For example, the perception threshold for oak lactones is reported to be 50 times lower in the presence of vanillin. In addition the combination of more than one of these can produce complex flavors or aroma sensations. Whether or not any of these flavors will be positive depends upon the context of the wine
Helpful Wine Terms/Glossary
Acidity
A wine's acidity should be detectable as a sharpness in the mouth, particularly around the front sides of the tongue. It should be neither too obvious nor absent. It provides a refreshing sensation in white wines, and balance in reds. Its absence makes a wine dull and 'flabby' - a defect in any wine, but a disaster in sweet wines which to me become undrinkable without balancing acidity. Too much acidity can make a wine difficult to drink. There are many acids in a wine, but the principle ones are acetic, malic, tartaric, lactic, citric and carbonic acid.
Austere
A term used to describe a wine that is unforthcoming - often they are young, tannic wines. They give little pleasure at the time, but it is likely that they will improve with age.
Balance
A tasting term. Wines said to have balance have a harmonious combination of tannin, acidity, texture and flavor. This is a vital attribute
Bâtonnage
The term for stirring of the lees which is employed to impart body and flavor to the wine.
Blind tasting
If you're ever poured a wine without knowing what it is, this is a blind tasting. The advantage of a blind tasting - usually achieved by simply covering the label - is that it removes all prejudices about the wine, and you have to judge it entirely on its merits
Body
A tasting term. A wine with plenty of flavor, alcohol, extract and tannin may be described as full bodied. It is a less specific term than texture
Bordeaux
The 1855 classification system was made at the request of Napoleon III for the Exposition Universelle de Paris. This came to be known as the Bordeaux Wine Official Classification of 1855, which ranked the wines into five categories according to price. The first growth red wines, are among the most expensive wines in the world. The five first growthsThe first growths are:

Château Lafite-Rothschild, in the appellation Pauillac
Château Margaux, in the appellation Margaux
Château Latour, in the appellation Pauillac
Château Haut-Brion, in the appellation Péssac-Legonan / Graves

Château Mouton Rothschild, in the appellation Pauillac, promoted from second to first growth in 1973.

At the same time, the sweet white wines of Sauternes and Barsac were classified into three categories, with only Château d'Yquem being classified as a superior first growth.

In 1955, St. Émilion AOC were classified into three categories, the highest being Premier Grand Cru Classé A with two members:

Château Ausone
Château Cheval Blanc

There is no official classification applied to Pomerol. However some Pomerol wines, notably Château Pétrus and Château Le Pin, are often considered as being equivalent to the first growths of the 1855 classification, and often sell for even higher prices.
Botrytis cinerea
The cause of Noble Rot, Botrytis cinerea is a fungus which, under suitable conditions, attacks grapes on the vines, leaving them shriveled and dehydrated. For many grapes this can be a disaster, but the process is also invaluable in the production of sweet wines in Bordeaux, Austria, Germany and Tokaji. In unfavorable conditions the fungus is the cause of Grey Rot.
Brettanomyces
A fungal infection. The Brettanomyces fungus can originate in the vineyard but some wineries are chronically contaminated, the organism living in oak barrels or even on the wooden structure of the winery itself. As a consequence the wines from this vineyard can bear a Brett profile - farmyardy, horsy, sometimes metallic aromas - year after year. Examples of châteaux which are renowned for Brett contamination are Beaucastel (Châteauneuf du Pape, Rhône Valley) and Talbot (St Julien, Bordeaux).
Brix
A measure of sugar content in grape juice, used particularly in the New World. My article on must weight in my Sweet Wine series gives more information.
Closed
A tasting term to describe a wine where there is no, or very little, aroma or flavor. Many wines, after the exuberant flavors they offer in youth, 'close down' in this way before they 'open out' again as they enter a mature phase
Corked
A tasting term used to describe wines contaminated by trichloroanisole (a corked wine is not one with bits of cork floating in it). This chemical compound is the product of mould infection in the cork. Said to affect 5% of bottles (some say more, some less) it is one of the main reasons behind the drive towards the increasing use of screw caps and synthetic closures. It may result in a wine that simply lacks fruit and can be difficult to spot, or it may be horribly obvious, with cardboardy, musty, mushroomy, dank aromas and flavors, rendering the wine completely undrinkable. See my advice page on faulty wine for more information. I also keep a record of corked wines experienced, mainly because it is so annoying
Dry
A tasting term. Essentially this is the opposite of sweet, although a wine that tastes dry still contains sugar, perhaps just a few grams per litre. The term 'dry' can also be used to describe the tannins or mouthfeel, when it refers to the dry, puckering sensation the wine imparts
Finish
A tasting term. The finish is how the wine tastes at the point of, and just after, swallowing. After finish comes the length
Fortification
The process of adding spirit to a wine. If this is done before completion of the alcoholic fermentation, as with Port, the unfermented sugars will cause the wine to be sweeter than would otherwise be the case. Added later, as is the case with Sherry, the wine will remain dry. In all cases the final alcohol content receives an obvious boost. The process is also used in the production of vin doux naturel.
Forward
A tasting term. This denotes a wine which is felt by the taster to be developing quickly, and is ready to drink before it might otherwise be expected. The opposite of backward
Integrated
A tasting term. When the components of wine, such as tannin, oak and acidity, fade as the wine develops, they are said to have integrated.
Left Bank
A collective term for the communes of the left bank of the Gironde in Bordeaux. Left Bank wine is predominately Cabernet Sauvignon, and the Right Bank is predominately Merlot.
Legs
A tasting term. It refers to the tear-like tracks that a wine makes down the side of a glass after it has been swirled. It may be related to alcohol or glycerol content - it's a matter of contention. Not really essential for assessing the quality of a wine, although some tasters do still pass comment on the legs.
Midpalate
A tasting term. After taking a mouthful, hold it in the mouth, and see what you get from the wine. Does it have enough flavor and texture? What are the tannins and acidity like? When describing how the wine develops in the mouth, you are describing the midpalate. Describing your immediate impression would be to discuss the wine's entry. Then swallow, to judge the finish and length.
Noble Rot
A fungal infection caused by Botrytis cinerea. Under the right conditions - damp, misty mornings followed by warm, sunny afternoons - the result is Noble Rot, which leaves grapes shriveled, dehydrated, and thus rich in sugar and also unique Botrytis-derived flavors. It is an essential ingredient in Sauternes, Tokay and other sweet wines of Germany and Austria. Under the wrong conditions the result of infection is Grey Rot. See my feature on Noble Rot for more detailed information
Nose
A tasting term. The 'nose' of a wine describes how a wine smells
Oxidation
The degrading action of oxygen on a wine (or any other substance) is known as oxidation. Hence exposure of the wine to oxygen in the winery is carefully controlled, although not necessarily completely avoided. Exposure to oxygen during racking and ageing in barrel can be of benefit to the wine. Once a bottle of wine has been opened for some time, or if oxygen has seeped past a faulty cork, the oxidized wine will taste off
Right Bank
A collective term for the communes of the right bank of the Gironde in Bordeaux. Right Bank wine is predominately Merlot
Structure
A tasting term. When a wine is described as having structure, the taster is referring to the tannin and acidity levels. These elements give the wine a presence in the mouth; without them wine would tend towards a flabby, fruit flavored drink.
Tannin
Found in grape skins, pips and stalks, tannins are harsh, bitter compounds which if present in large amounts make a wine difficult to drink as they leave a dry, puckered sensation in the mouth - rather like drinking stewed tea, which is also very tannic. The amount of tannin can be increased by enhancing extraction, achieved by prolonging the cuvaison. Tannins may also enter the wine from oak barrels. Tannic wines are generally destined for ageing, the tannins polymerizing to form sediment with time.
Texture
The texture of a wine describes how the wine feels in the mouth - is it silky, velvety, rounded, or smooth? It is a more specific term than body, which describes the general impact of the wine
Toasty
A tasting term. Toasty means literally means just that - smelling or tasting of toast. It may reflect 'toasting' of the barrels, when they may be placed around a fire (sometimes as they are made), the flames altering the physical and chemical composition of the surface of the wood, and subsequently this will have a significant effect on the flavor of the wine.
Wine Storage Tips
Temperature
This is certainly the greatest concern when cellaring wine. Room temperature is usually in excess of 72ºF, great for humans but rapidly lethal when it comes to wine. The temperature inside the average home is also very variable, with most rooms warming rapidly during the day. This is also true in the kitchen, where many people seem to store wine, at least in the short term. Here the ambient temperature varies significantly. This inconstancy of temperature is not recommended for wine storage.

The ideal temperature is 50ºF to 55ºF, but several degrees either side of this is quite safe. In fact, provided the wines do not freeze, which does not occur until the temperature drops some way below 32ºF, then it is quite safe for temperatures to drop lower than the ideal. The worst that may happen is that some non cold-stabilized wines may throw a small deposit of harmless tartrate crystals, which is of no real consequence. It is worth remembering, however, that one of the purposes of cellaring wine is so that it develops over time, gracefully maturing into something more complex and interesting than the wine in its youth. Lower temperatures inhibit this process, meaning you will have to wait even longer to enjoy the wines at their peak. A little above 55ºF is also quite safe, and I would be happy with wines stored medium term in temperatures up to about 60ºF. This will not spoil the wines at all, but as you may expect warmer temperatures may accelerate the ageing process.

Humidity
A moderately damp cellar is ideal, as humidity helps to keep the corks from drying out. This is also achieved by keeping the bottles horizontal, so that the wine is in constant contact with the cork. A cork that is kept moist keeps its shape, and thus remains well expanded and maintains a good seal. Although it is not too difficult to get around the problem of a cellar with humidity that is too low, a cellar that is too damp is more difficult to rectify.

Light
Darkness is ideal for a cellar. Ultraviolet light destroys wine, which is one of the reasons wine is traditionally bottled in colored glass. Consequently it makes sense to store wine away from the potentially damaging effects of such light sources.

Vibration
Wine needs to sleep, and frequent disturbance of the wine will agitate it. This is unlikely to be a significant problem in the modern home, the small and occasional vibrations from domestic appliances being too slight to cause any real problem
A Guide on White Wine Grape Types
Chardonnay
Profile: The variety itself is thin-skinned and gives good yields. Other than Burgundy and Champagne, the grape has found fame on the labels of wine from Australia, New Zealand, California, South Africa, South America, Eastern Europe, Southern France and even Italy. It would have been quicker to list where the grape isn't extensively cultivated.
The characteristics of the wines produced vary considerably, and many aromas and flavors to be found are often down to oak ageing rather than the grape variety. These include, butter, vanilla, spice, toast and mealiness. The grape itself can give rise to a buttery feel, but also flavors of apples, lemons, melon, honey, mango, fig, hazelnut, mineral, pineapple and other tropical fruits, particularly from warm, New World climes. Other characteristics include wet wool (especially Burgundy) as well as minerals and flint (especially Chablis).

Sauvignon Blanc
Profile: This grape is responsible for some of the fine wines of the Loire Valley, with such well-known names as Sancerre and Pouilly-Fumé. To the modern wine drinker, however, it is probably better known as the grape behind the richly flavored wines that have put New Zealand on the wine map. It also, however, has an important role to play in Bordeaux where, together with Semillon, it is used to produce Sauternes, the fine botrytis-influenced dessert wine of the region. This is a thin-skinned variety, and is therefore susceptible to botrytis infection (although less so than Semillon).
Characteristics of the grape when used to produce a dry wine include cut grass, minerals (especially Sancerre), gunflint and cordite (especially Pouilly), gooseberries, lantana, tomato bush, artichoke, pea pods, dill, green apple, flint, gunpowder, gooseberry, grapefruit, passionfruit, tropical fruits (especially new Zealand).

Riesling
Profile: This grape, which will grow in a wide range of conditions, is most famous for producing some of the finest white wines in the world when it is grown on the steep, slate vineyards that lie on the banks of the Mosel in Germany. This grape is also grown in Alsace, where although produced in a very different style it is also responsible for some very fine wines. Plantings in the New World are increasing, with some success in particular from New Zealand and Australia.
Characteristics include floral aromas, fruit blossom, apples, lemon, limes, other citrus fruits, tropical fruits (especially New World), as well as slate, minerals and petrol (especially Germany) jasmine, rose, honysuckle, cold cream, bath salts, kerosene and flint.

Semillon
Profile: One of two grapes, together with Sauvignon Blanc, that is responsible for Sauternes. Like Sauvignon, Semillon is thin-skinned and thus susceptible to Noble Rot (botrytis) infection. Unfortunately it is also susceptible to Grey Rot, which does not have the beneficial effects of the more noble infection. Other than in Bordeaux, Semillon is little grown. Nevertheless it has found a niche in the Hunter Valley in Australia, where unoaked versions are capable of long ageing, developing fabulously rich flavors as they do so.
Characteristics from dry wines include a waxy texture, butter, honey, green bean, cut grass, pear, hay, toast, lanolin, limes and citrus fruits, lemon curd or meringue. Typical Sauternes often tastes of pineapple, quince and other rich fruits, alongside the botrytis.

Viognier
Profile: In recent years Viognier was at risk of extinction, with just a few hectares maintained in the fine Northern Rhône appellation of Condrieu. These wines were not widely appreciated despite, in some cases, being extremely fine. In recent years though, many wine makers in Languedoc-Roussillon and the New World have latched on to this grape and plantings are increasing dramatically. These New World examples, if well made, will make a welcome alternative to the excellent although usually expensive Condrieu bottlings. Many have hailed the grape as the 'new Chardonnay' and I would not be surprised if it becomes as well known, even if it is more difficult to pronounce!
Characteristic flavors and aromas include peaches, apricots, musk, iris, ylang ylang, orange blossom, lychee, marmalade, pine nuts and kernels. Problems with some New World wines include lack of balance due to excessive alcohol.
Chenin Blanc
Profile: This grape is responsible for some of the finest dessert wines in the world, from numerous appellations in the Loire Valley, including Bonnezeaux, Quarts de Chaume, Vouvray and Coteaux du Layon. It also produces some dry wines in the Loire, and is also widely planted in South Africa, where it is known as Steen, although these wines are of much less significance. Like some other grapes above, this thin-skinned variety is also prone to botrytis.
Typical characteristics of the sweet wines of the Loire include quince, honey, hay, cut grass, herbal tea and minerals
Other White wine grapes
Gewurztraminer:A superb grape which produces fine wines in Alsace. Some love it, some hate it. There has been limited success in the New World, particularly New Zealand. Characteristics: spice, bacon, banana, rose, musk, mango, lavendar, guava, lychee, grapefruit and is sometimes troubled by low acidity.

Pinot Gris: Another of the top grapes of Alsace (where it is often called Tokay Pinot Gris), this also produces fine, spicy wines, with better acidity than Gewurztraminer. Also found in Italy (as Pinot Grigio) and Eastern Europe. Characteristics: spice, bacon, tropical fruits.
Muscat: The final variety in this trio of Alsatian grapes. Also found in the Southern Rhône where it is used for dessert wines, as well as Australia, where some exceptionally fine liqueur wines are made. Characteristics: musk, sometimes grapey, orange and citrus peel, floral and aromatic.
A Guide on Red Wine Grape Types

Cabernet Sauvignon
Profile: Renowned for the wines it produces on the well-drained, gravelly soils on the left bank of the Gironde in Bordeaux, cabernet Sauvignon has been a natural choice for New World winemakers. It is a robust grape that has travelled well, and is now cultivated in Australia, South Africa, North America and South America, but has also been put to use in Italy, Spain and Eastern Europe.
It has small, blue-black berries which have thick skins, providing necessary tannin, color and flavor. Characteristics aromas and flavors are blackcurrants, cedar, old furniture and cabinets, coffee, tobacco, cigars, cigar boxes, violets, minerals, green pepper (especially if grapes are somewhat under-ripe), chocolate and so on. Young wines start off intensely fruity, while the more complex aromas will develop with age.

Merlot
Profile: Whereas Cabernet Sauvignon has its roots from the left bank communes of Bordeaux, Merlot is most famous for the wines from the right bank, especially from Pomerol and St Emilion. Although somewhat less widely travelled when compared to Cabernet, this thin-skinned, large-berried variety has found a new home in California. It is also important in some of the top wines of Italy, and can also be found in Australia and Eastern Europe.
Spicy fruitcake, Christmas cake and chocolate characteristics will often give Merlot away, although it may also display blackcurrant, sage, anise, beet root, mint, black cherry and plums. It is less tannic than Cabernet Sauvignon, and is often used when wine need to be 'fleshed out' in weaker vintages.

Pinot Noir
Profile: This variety is thin skinned, grows in small bunches, and is prone to problems with yields. Accepted wisdom states that consistently low yields are necessary to maintain quality, and although high-yield clones have been developed (there are many different clones of Pinot Noir, all of which have different flavor, yield, disease resistance and so on) the final product lacks the necessary quality.
When discussing Pinot Noir, it is also worth remembering that it plays a vital role as one of the three grapes widely planted in Champagne. Primary aromas and flavors (those present when young) are redcurrants, cranberries, strawberries, blackberries, rose petals, cola, spice, rhubarb, forest floor and chocolate.

Syrah/Shiraz
Profile: Syrah is the grape behind fine wines of the Northern Rhône, not only Côte Rôtie ("roasted slope") and Hermitage, but also Cornas and Crozes-Hermitage. Nevertheless, most wine drinkers are familiar with it as Shiraz, the name by which it is known in Australia, where it is responsible for richly fruity wines, ranging from inexpensive everyday bottles right up to Australia's first growth, Penfolds Grange (once known as Grange 'Hermitage'). This thick-skinned grape may produce potentially tannic and long-lived wines. It is also late-ripening, explaining why it has gravitated towards warm regions such as the Rhône and Australia, although it is also producing good wines in South Africa, Chile and California.
Typical descriptors include black fruits and black pepper, but more intriguingly raspberries, spice, herbs, grilled meats, black olive, jammy, menthol, eucalyptus, licorice, leather, charcoal, smoke and tar may be found.

Sangiovese
Profile: This variety enjoys a warm climate, and is capable of producing great wines in such conditions. A cooler environment may result in excessive acidity. Despite this, Sangiovese has not been the focus of the attention of new World winemakers in the same way as Cabernet or Pinot. Sangiovese is also the grape behind other classic wines of Northern Italy, such as Brunello di Montalcino (Brunello being an Italian synonym for this grape) and Vino Nobile di Montepulciano. In the New World, there are some small plantings in California and Australia, as well as Argentina.
Typical characteristics include slightly bitter, mouth-watering sour cherry and black cherry aromas, plumb, spices, herbs and tobacco.

Nebbiolo
Profile: Like Sangiovese, Nebbiolo is another of Northern Italy's classic grapes which, despite great potential, and being responsible for some of Italy's finest wines, has not been widely planted in the New World. It's home is not just in Barolo, but also nearby Barbaresco, where fine wines are also produced. It would seem ideally suited to planting in warmer climes, as this thick-skinned variety is late ripening. Indeed, the name Nebbiolo may be derived from nebbia, a fog which hangs over the vineyards during the Autumn harvest. There are small plantings, however, in California, Australia and Argentina.
Typical adjectives used to describe the wines of the Nebbiolo grape include black cherries, liquorice, green tea, dried rose or violet, camphor, plum, anise, truffle, tar, hung game and chocolate

Other Red Grapes

Grenache: Important in the Southern Rhône, where it dominates. Nevertheless, in almost all cases in is blended with other varieties such as Syrah and Mourvèdre, which is standard practice in this region. It may also be found in Spain and Australia. Characteristics: raspberries, white pepper, bubble gum, cherry, orange peel, earth and prune.

Mourvèdre: Also important in the Southern Rhône, but also Bandol in Provence where it produces some classic wines. Also known as Monastrell or Mataro, and may be found in Spain and California. Characteristics: tannic, long ageing wines. Black fruits.

Cabernet Franc: Dominant grape in the Loire Valley, but also extremely important in Bordeaux where it is general used as a minor component of the blend by most châteaux, although by itself it is the grape behind the wine from one of the regions top estates, Cheval Blanc. Characteristics: blackcurrants, blackcurrant leaves, green/bell peppers, tarragon, mint, pencil shavings, smoke, spice.

Tempranillo: The grape of Rioja. Many of the characteristics of Rioja are derived from the long oak-ageing. Characteristics: vinified without oak, you might find strawberries, plum, brown sugar, raspberry, earth and soft spices.

Malbec: Like Cabernet Franc, this is used as part of the blend by some Bordeaux estates. It is also the grape behind Cahors, a southern French appellation. It is becoming more widely known, however, for the steadily improving wines it is producing in Argentina. Characteristics: intense summer fruits, spice.

Zinfandel: The grape the USA has made its own, with wide plantings in California especially. It is also grown in southern Italy where it is known as Primitivo. Characteristics: red and black fruits, black pepper, tomato, walnut, raisin, tar and briar.

Pinotage: This grape belongs in South Africa. It is a crossed variety, the parents being Pinot Noir and Cinsault, which was once known as Hermitage. Characteristics: summer fruits, fruitcake, tar, leather, smoke.

Gamay: The grape of Beaujolais. Like Tempranillo, many of the flavors associated with this grape are not from the grape itself. In Beaujolais, the winemaking technique carbonic maceration is more the culprit. Certain yeast strains have also been implicated as being responsible for some flavors, particularly banana. Characteristics: red fruits, bananas, bubblegum.
Information on Wine Glasses
Which sizes brings the appropriate intesity of aromas for different wines
Which shapes direct wines to specific parts of the tongue
Which shapes and sizes emphasize fruitiness
Which shapes and sizes emphasize tannin
Which shapes keep Champagne from going flat

Below are some sample wine glasses with the corresponding wines from the Riedel glass company.

White Wine Glasses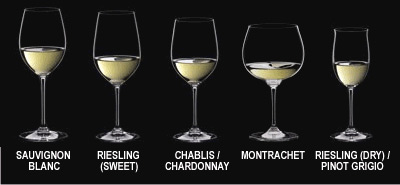 Red Wine Glasses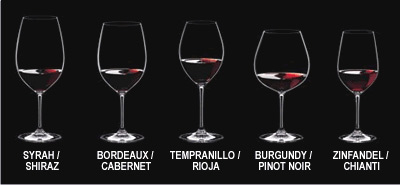 Champagne and desert wine glasses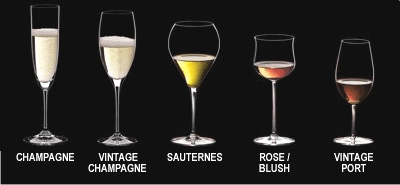 Wine Spectator top 100
The 2009 Wine Spector Top 100 List
The 2010 Wine Spector Top 100 List
The 2011 Wine Spector Top 100 List
Other Wine Related Information and References:
Do more expensive wine taste better?

All About the Wine.

Phone: 954-383-7911